Membership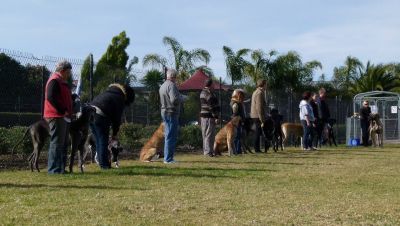 Thank you for showing interest in becoming a member of the Great Dane Club of Victoria. We welcome all people who own great Danes or have a passion or interest in our Breed. Our events are varied form Organizing "Fun Day" to holding Championship and Open Shows"
You do not need to have a Pedigree Great Dane or a Show Dog in order to become a member, all Great Dane lovers are more than welcome to join the club.

Download Membership Form from HERE
Once off joining fee $5.00
Single Adult Membership $25.00 (Digest Posted)
Single Adult Membership $20.00 (Digest E-Mailed)
Dual / Family Membership $30.00
DOGS Victoria Levy - Applies to Victorian residents who are not DOGS Victoria members.
$8.00 (Per Person), $16.00 (Dual/Family).
Club membership run from 1 July to 31 June each year.
NOTE: You must be a member at the time your dog obtains it's title to be eligible to obtain your free "title" sash donated by the GDCV.
A0043164E
Contact Details
Great Dane Club Of Victoria Inc
37 Moody Street, Koo Wee Rup 3981, VIC, Australia
Email :
greatdaneclubvic@gmail.com